The Spirits #1: Welcome
~ Dream bars ~ How this is going to work ~ Straight no chaser ~ Sour challenge ~
OH, HEY.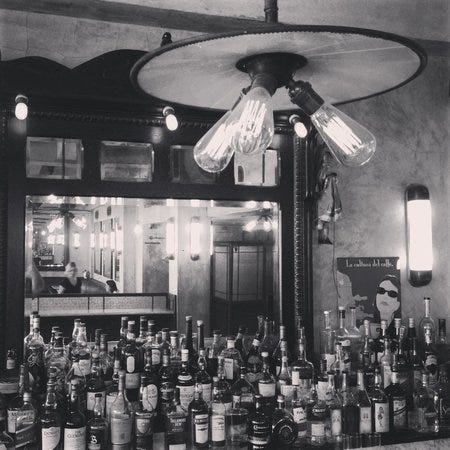 Of course you can come in. Yeah - we are open. It's usually quiet at this time. Shocking weather huh? Sure, sit up at the bar. Let me take your coat.
Water? Important to stay hydrated. Although this is Europe so I'm afraid we don't do ice… 
…Just kidding. We have figured out ice.
Specials on the board, I can recommend the... Oh? Sure. You can go off-menu if you want. I don't mind. In fact - I encourage it.
🍸
I've long dreamed of running my own bar. A place where I set the lighting, choose the music, source the décor, design the menu, decide which dissidents get to hide out in the cellar. The tough glamour. The Campari headaches. The honest graft of helping people laugh, talk, dance, flirt, forget.

It will remain a dream, as I have zero doubt that business rates, spiralling rents, staffing issues, etc, would bring my creditors round within weeks - if not hours. I'm always impressed by anyone who can make a half-decent bar a going concern, even outside a massive global pandemic. And then, imagine: you do make it work, in extraordinarily challenging circumstances… and the Government spends five minutes coming up with a curfew policy that could be expressly designed to destroy you and all nightlife. 
Yes, it's tough out there right now.  
And it's no picnic at home, either. Few of us are going to be spending much time out this winter. I'm guessing that work, time, tide, money, children etc stop many of us from doing so as much as we'd like to anyway. But the first Lockdown reminded me that even if virtual is not the same as actual - even if our favourite haunts are closing at a depressing rate (RIP Milk & Honey 😔) - even if we're using our kitchens to mix in, and pressing housemates/pets/yucca plants into service as drinking buddies - cocktails still somehow retain their magical ability to bring people together. And even socially distanced, we can do sociable part of drinking, share stories, songs, recipes. Let our edges become a little fuzzy.
So, welcome to my hypothetical bar. I say we hide out here. I hope you sanitised your hands on the way in. 
🍸

It's in a basement, by the way. Candle-lit, for the most part - the main exception being a neon sign on the back bar promoting an alcohol brand we haven't actually sold since 1993. Late afternoons, a slant of daylight intrudes via a strip of stained glass in the corner. There's a table underneath, a good place to nurse a wet Martini about 5 o'clock, watching the blurred feet of commuters hurry past.
It wouldn't be secret exactly - there's a sign on the unnecessarily ornate street lamp outside saying: BAR  - but we don't go out of our way to announce ourselves. No Instagram presence or anything like that. It's in a backstreet near a train terminus. Or - better - an actual port. An area that's chic but kind of humdrum, fast-moving but with pockets of stillness, glamorous once but weirdly impervious to gentrification. Maybe the 2nd arrondissement of Manhattan, the part that looks like Venice. Or possibly the 3rd canto of Venice, the one that looks like Manhattan? Or maybe it's Tokyo by way of Paris or Buenos Aires via London. Sometimes, I swear, it's like you enter in one location and leave in another.
The cocktails are great, of course. My bartenders are extremely good at their jobs. Daiquiris are $4 in the local currency. If you want a Sex on the Beach… I'll make you one, fine. But mostly we keep things simple. No mists or flights or wanky concepts. There's a daily punch. A single beer on draft (German or Czech). A few bar snacks (bread, cheese, olives, nuts, empanadas). The younger bartenders have taken to making fresh guacamole at the beginning of each shift - but once it's gone, it's gone. Maybe we let people smoke sometimes. 
All this (plus an unfortunate incident involving a Ukrainian sailor, a ruined countess and a tray of Margaritas on the evening the guy from the Cyclopedia came to write us up) means we're usually passed over in those lists of 31 COCKTAIL BARS YOU HAVE TO TRY! 
Which is fine by me, to be honest. 
Did I mention there's a piano? Oh yeah. An old dude comes in off the street sometimes and plays it in the Harlem stride style. Claims he once sold a hat to Thelonius Monk. But mostly we put on a playlist. If anyone wants to dance, or be silly, that's always OK.
There's no mobile reception - but there is phone booth out back. Certain combinations of dial codes and obsolete coinage transport you to bars of former times: the Stray Dog, St Petersburg, 1911... The Beverly Hills Luau, 1953… Fat Sam's actual Grand Slam…  Oh and there's a cellar too, a basement within a basement, where if you dig around, you'll find rare bottles of Chartreuse Blanche, dusty crates of Bacardi from before the Cuban Revolution, a barrel of Flaming Moe's, a promotional T-shirt from a Kuala Lumpur airport bar, plus a small iridescent sphere of almost unbearable brilliance, where all places are seen from every angle…
But we can have root around in there at a later date.
In the meantime, sorry - I've been going on.
Drink?
---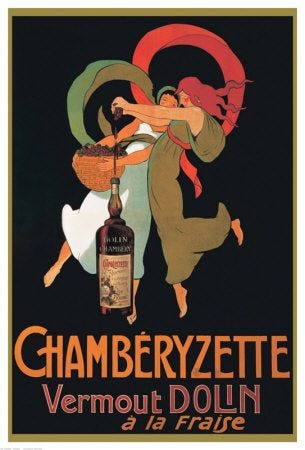 HOW THIS NEWSLETTER IS GOING TO WORK
Don't worry, I'm *mostly* going to keep things earthly and practical from here on in. Though we might be tossing some pesos into the coin slot on that phone-booth once in a while.
Subsequent issues will be built around a Cocktail of the Week. A weekly special, if you will. I'll also include some other snippets, links, tips, how to do cool garnishes, etc.
If you're new to this, I've put up some stuff on the Spirits Substack site for general reference. Here (from my book) are my TEN RULES for making cocktails. They stand up pretty well, I think. And here are the SIX BOTTLES I reckon to be the cornerstones of the modern cocktail cabinet (tl;dr: gin, bourbon, Italian and French vermouth, Campari and Angostura bitters). I've also posted a little item on PREPARATIONS (i.e. sugar syrup and ice) so I don't need to keep re-explaining. I'll add to these whenever it feels relevant.
BUT: to bring things on from my book - this is 2020 after all! - I'm going to add a few new bottles to that half-dozen to that virtual cabinet over the coming weeks… rum… brandy… absinthe… hopefully at a manageable pace. No need to panic buy crème de cacao and Pisang Ambon just yet. Plus I'll be sure to end each newsletter with a shopping list, so you're not short of grapefruits or whatever next time. 
---
PLAYLIST
"Dry Martini, jigger of gin
Oh, what a spell you've got me in…"
I wasn't kidding about music.

CLICK HERE FOR THE SPOTIFY PLAYLIST OF THE WEEK!

I like making playlists as well as drinks, so, there it is. Each one will be the length of one side of a 90-minute mix tape - a dozen songs of so - and be ever-so-loosely "matched" to the Cocktail of the Week. Hopefully it will get you in the mood while you're mixing. The theme this week is quite simply: drinking. (CW: jazz).
---
OFFER!
Online alcohol shop The Drop Store is giving readers of The Spirits a discount. Head HERE, have a mooch and if you add THESPIRITS10 in the promo code you will get 10% off at checkout. There's a good deal on Eagle Rare bourbon at the moment.
---
THE SOUR CHALLENGE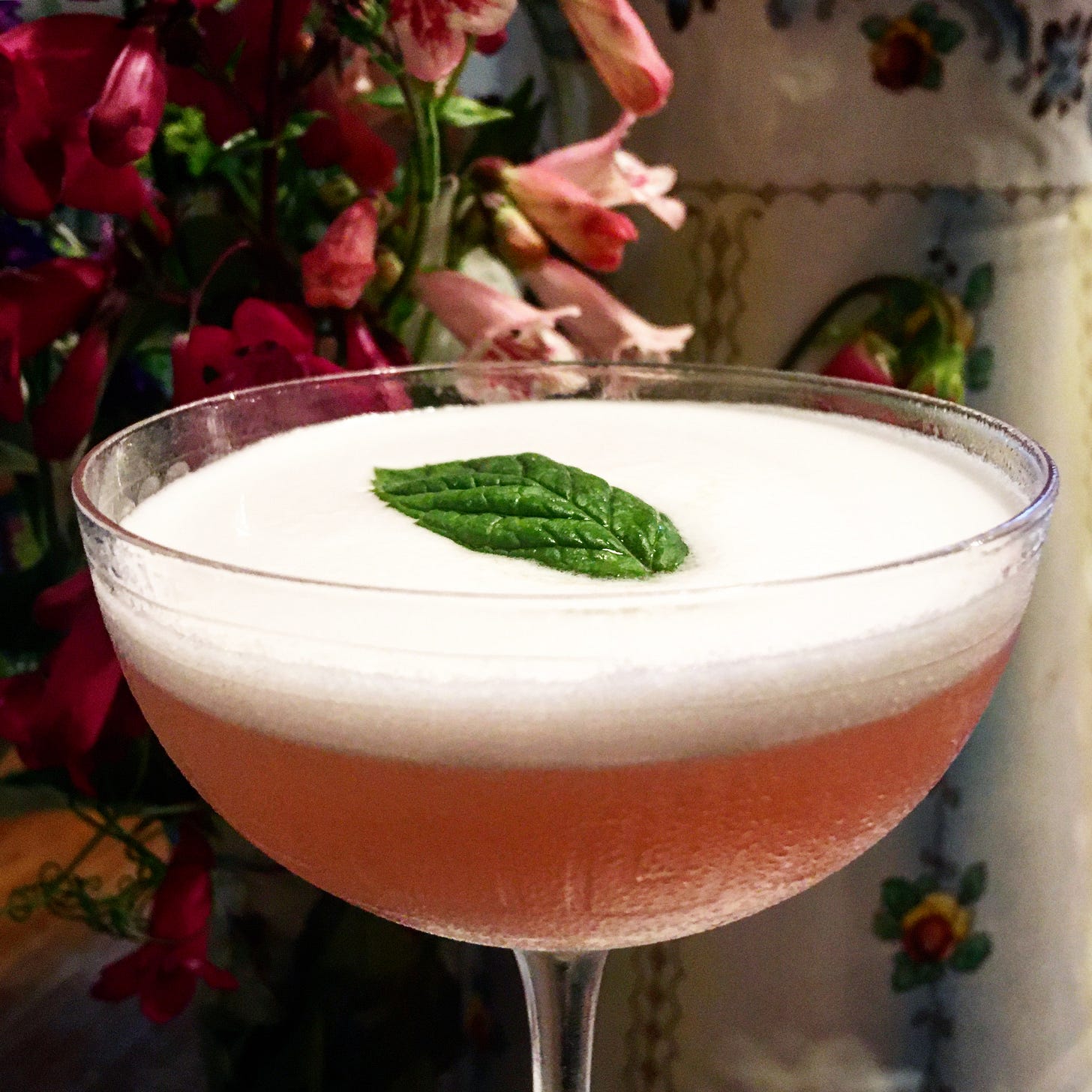 Since this is the first day of Corona Cocktail School, and we haven't all necessarily had time to stockpile, I thought it would be fun to set a challenge. 
"It is fun to have fun but you have to know how" - the Cat in the Hat. 
About half of all cocktails in existence are founded on The Sour: an alchemical combination of alcohol / acid / sugar, diluted with ice and served extremely cold. Sours are great, because you can make them with only a single bottle of alcohol and a few bits and bobs that I bet you already have in your kitchen. Whiskey Sours are quintessential - but you can also make them with gin, rum, brandy, that weird bottle of slivovitz you brought back from the war… whatever you like. Irish whiskey, pisco and grappa make particularly good sours. 
My go-to recipe is this:

The Sour

50ml spirit
15ml lemon/lime
10ml golden sugar syrup (see here)

Measure your ingredients carefully and pour them into the shaker. Add plenty of ice, enough to come above the alcohol line, then shake hard for five seconds. Double-strain (i.e. through a fine mesh sieve or strainer) into either a cold coupe glass or a tumbler filled with more ice. 
This ratio pleases me as it's two shots of spirit and one shot of sour mix. Also it just tastes nice. It may be that you like yours a little sweeter (add more sugar), a little sourer (add more citrus), a little more boozy (add more booze), less boozy (add more citrus AND sugar), or even a little more dilute (shake for longer). Whatever: it's good to have a general purpose ratio at your disposal - one that works for you, more often than not.
And then you can vary it in any or all of the following ways:
The Bee's Knees Formula: sub the sugar for honey (maple syrup / agave nectar / golden syrup, all good too).
The Southside Formula: lob a few mint leaves into the shaker. Also works with mint, tarragon, thyme, etc. Or, for that matter, cardamom, chilli, fennel seeds, and so on.
The Clover Club Formula: add three fresh raspberries. Or an equivalent amount of, say, pineapple, passion fruit, strawberry, etc.
The Breakfast Martini Formula: sub the sugar for marmalade - or indeed jam.
The Army & Navy Formula: sub the sugar for a flavoured syrup: orgeat (almond), or grenadine, or ginger syrup, or elderflower cordial. Ribena? Sure!
The Boston Sour Formula: add 10-15ml fresh egg white. This will require a second "dry" shake with no ice in order to froth up the egg white.
The Vegan Sour Formula: add in 10-15ml of aquafaba (the water from a tin of chickpeas). Same method as for egg sours. Try it!
The Sweet Sour Formula: a sour but with an extra 15-20ml of fruit juice, e.g. orange, pineapple, grapefruit, guava-flavoured Rubicon, etc.
The Avant-Garde Formula: hey, hipster, thought of using apple cider vinegar instead of citrus? It's kind of nice! You'll probably need a bit less than 15ml.
The Fizz Formula: any of the above, poured into a tall glass filled with ice cubes, and topped with fizzy water.
SO the challenge is to make a sour with whatever you happen to have around. Be creative! The only rule is: only one type of alcohol allowed. Share your creation here (or wherever you like) and I will shout out the best ones next time. Surprise me.
---
WHAT I'M READING
The 10pm curfew really is harmful for everyone involved in bars, restaurants and venues. This was the view from Bristol last week (Financial Times). Bartenders associations have since launched the #CanceltheCurfew campaign with an open letter to the Prime Minister: "Our industry is dying and the 10pm curfew may be the final nail in the coffin." (The Spirits Business).

A week is a noisy time in American politics (taxes… debate… COVIDFEFE!) Arguably, the story that deserves most attention is the systematic suppression of millions of African-American votes by the Republicans. (Channel 4).

Sir Harold Evans (1928-2020) was a prince among journalists. I saw him speak about his book, My Paper Chase, soon after I had joined the Standard and I thought: that's how I'd like to be. RIP. (NYT Obituary).

Radiohead's Kid A is 20 this week. (The Quietus)

Alice Lascelles profiled MC-turned-sommelier Dominic Smith. (The FT)

Oh and here's one of my favourite stories by Jorge Luis Borges in which a miniature universe is discovered in the basement of a bar in Buenos Aires. (The Aleph)

---
SHOPPING LIST
For next week, please try to get in bourbon, fresh pink grapefruits and maple syrup (honey will make a decent sub). 
Until next time.